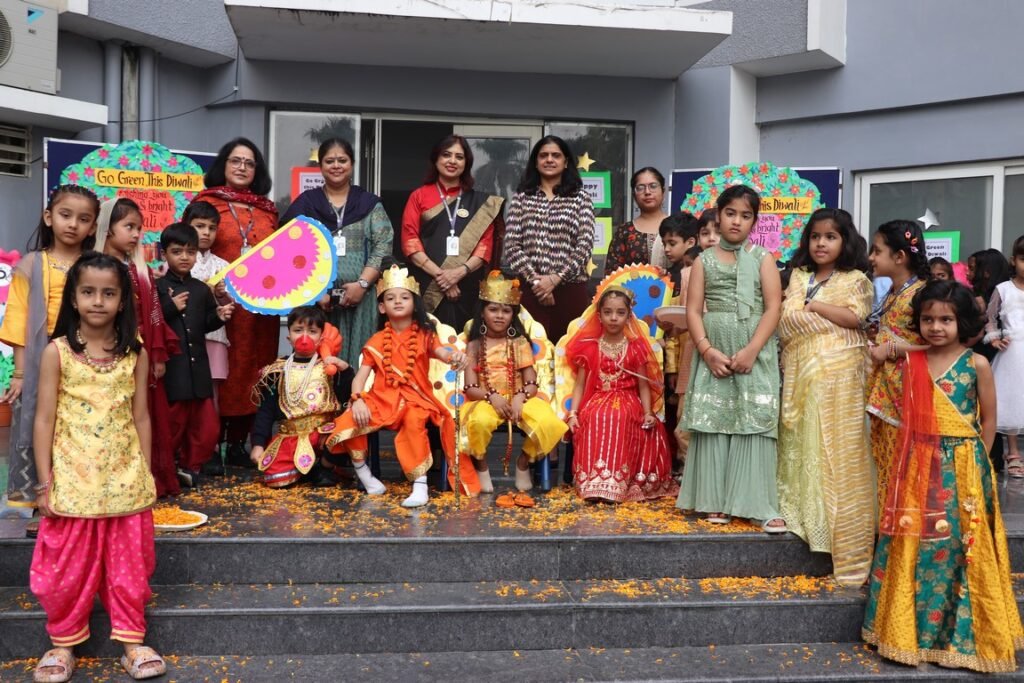 "Let us move from untruth to truth and from darkness to light."
Diwali celebrations at Shri Ram Global School on 10th November, 2023 illuminated everyone's heart with joys and fervour. To mark the occasion, a special assembly for pre-primary students was organized. It started with a solemn prayer to the almighty. Children were told about the significance of this five day festival celebration and were also sensitized of ill-effects of burning crackers. A small enactment was presented by students showcasing the return of Lord Ram to Ayodhya after fourteen years of exile. The event was lit up with the presence of some special guests from street kaksha and the Ranger army from SWAPNA FOUNDATION. This STREET KAKSHA is led by Mr Abheesht & Ms Shivangi along with Ms Ayushi, Ms Nancy and Mr Shreyansh were welcomed by the students of SRGS wholeheartedly. The campus was lit up with their smiles and happiness flowered in every heart.
Children handcrafted origami 'diyas', 'paper lantern' and 'bandhanwaar' with great enthusiasm. They enjoyed the celebrations wholeheartedly.
Beauty is the realm of the poetry, children enjoy the beauty of expression, thoughts and feeling of words. Taking all these facts into consideration the children got an opportunity to exhibit their talent and confidence through Hindi Recitation Competition which was held on 10th November 2023 (Friday) in Shri Ram Global School, Lucknow for the students from Pre-Nursery to Grade 2.
General theme for poem recitation was festivals. The topics on which children recited were Holi, Diwali, Independence Day and Raksha Bandhan.
Students were judged on parameters like memorization, clarity & pronunciation, props, expressions and voice modulation.
#deepavali #diwali #festival #happydiwali #india #diwalivibes #festivaloflights #celebration #indianfestival #diwaligifts #