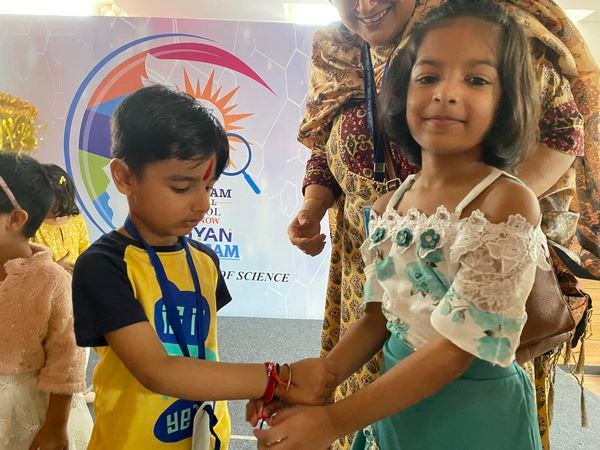 "Our brothers and sisters are there with us from the dawn of our personal stories to the inevitable dusk".
The bonding between a brother and sister is simply unique and is beyond description in words. The relationship between siblings is extraordinary and is given importance in every part of the world. However, when it comes to India, the relationship becomes all the more important as there is a festival called "Raksha Bandhan" dedicated for the sibling love.
Raksha Bandhan is an Indian celebration of sisterly and brotherly respect and love. 'Raksha' means protection and 'Bandhan', to tie.
On 12th August 2022 children of Shri Ram Global School celebrated Raksha Bandhan with full gusto and zeal. In the Morning Assembly the ritual of Raksha Bandhan was demonstrated by girls by putting teeka, tying rakhis and making their brothers eat sweets who also study in the school. They were also told about the sanctity and importance of this day by their teachers and related videos of rhymes and songs along with movie were enjoyed by them. The most enthralling moment for the kiddos were decorating the Rakhis. As per the level of their creativity the little ones decorated beautiful Rakhis in their worksheets. The entire day was a fun-filled day for the children.